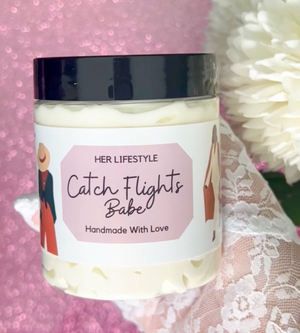 Catch Flights Babe
Calling all of our Catch Flights Babes who love making their life soft by traveling and seeing the world!! This body butter smells like an island getaway in a jar. With Top Notes: Mango, Pineapple, Coconut. Middle Notes: Banana Peel, Berry Vines, Violet. Base Notes: Green Jasmine, White Musk.
Directions: Use as daily moisturizer by massaging desired amount on to skin. Works best when apply to damp skin.
Ingredients: Raw Shea Butter, Avocado Oil, Grape Seed Oil, Castor Oil, Fragrance  
Type of Shea Butter we us:
100% West African Shea Butter (Butyrospermum Parkii). No Animal Testing, Alcoholic Fragrances, Synthetic Chemicals, Sulfates or Para-bans. All Natural and Hexane Free, Unrefined, Grade A, Raw Ivory Shea Butter. All Vegan-Product of Ghana.
Size: 8 oz
For longer shelve life make sure to keep butter away from water!
***SKIN PATCH TEST***
Do a skin patch test to ensure that you are not allergic to a new skin care product. Apply a small amount of the product to a small patch of the skin. Wait 24 to 48 hours. If you see or feel any irritation in that area after the time frame, discontinue use.